JOEL HIRSCHHORN

Last year (sept. 18th 2005) Mr. Joel Hirschhorn died at the age of 67. I'm grateful I had the opportunity to interview him a few years ago:
To my amazement I got a mail from one of the writers of the Inferno-song "We may never love like this again" Mr. Joel Hirschhorn. He wrote: "Sorry you thought my song "We May Never Love Like This Again" was lame. Fortunately, the Academy liked it, and my partner and I received the Oscar. I do agree, though, that the film is powerful, and I'm glad you've put up a site to honor it. You've done a terrific job."
He was kindly willing to answer some questions and could even provide some unique info !
Who asked you to write a song for "The Poseidon Adventure" and "The Towering Inferno"
I auditioned with dozens of people for the job of writing "The Poseidon Adventure" song. The producer, Irwin Allen, was desperate to have a song quickly, because the film was almost finished. He told me to go home and have a completed tune by the next morning! So I stayed up all night, drank plenty of black coffee and stumbled in the next day. Amazingly, he loved the song and put it right into the picture. "The Towering Inferno" was a little easier, because everybody knew me by then. I had won the Oscar for "The Morning After". Still, it wasn't a sure thing. The head of 20th Century Fox Music wanted John Williams to compose the song. so I went out and made a demo of "We May Never Love Like This Again" and brought it to producer Irwin Allen's office. He wasn't sure, so he turned to his secretary and asked what she thought. She gave it a thumbs up. That's the way the fates work. If this secretary, who I didn't even know and never saw again, hadn't said she liked it, there would have been no "Towering Inferno" Oscar!
Why are the songs are so short ?
The songs were short because the producer wanted them that way. He said, 'I want to make a statement, but I don't want to distract from the story."
Who chose Maureen McGovern and why ?
Everyone concerned wanted Barbra Streisand to sing "The Morning After." But she had other commitments and she turned us down. Maureen McGovern, believe it or not, was a secretary from Ohio who had never made a record. The head of 20th Records heard her on a demo and liked her voice. It was truly a case of overnight success. She sang the song so beautifully that no one considering approaching anybody else. The record, as you know, went to Number One and made Maureen a star. It also launched me.
The theme from "The Morning After" is also heard in some pieces of the Poseidon-soundtrack. Did you have any contact with John Williams ? And why was the theme of "We may never..." not used in the soundtrack ?
I know John Williams well. He's a magnificent talent, really brilliant, and a great guy as well. John Williams actually DID use "We May Never Love Like This Again" in "The towering Inferno." It's used in the scene with Robert Wagner and Susan Flannery, in the love scene they have just before discovering that the building is on fire.
You told me Fred Astaire had written a song for the movie. Can you tell me more about that ?
Fred Astaire had written a song for the movie, and he was extremely angry when his song was bypassed in favor of mine. Irwin Allen was superstitious, and he felt that since I had won for "The Morning After" from "The Poseidon Adventure," lightning might strike twice -- and it did!
The Fred Astaire song was old fashioned. It didn't have a beat, and it sounded as though it had been written for something in the 1930s. The lyrics had no relationship to the film. Truthfully, he was the world's greatest dancer, but he wasn't a songwriter.
Can you tell me a bit more about your musical career before and after the 2 disaster pics ?
I've sold 90 million records as a songwriter. My first hit was with Elvis Presley ("Your Time Hasn't Come Yet Baby." It's in the movie "Speedway" , co-starring Nancy Sinatra) and I've been nominated for two other Oscars -- for "Candle on the Water" from "Pete's Dragon" and the score for that film. I also wrote the lyrics to a Charles Aznavour song that is very big worldwide -- "The Old Fashioned Way."
Thank you very much for answering all my questions !!!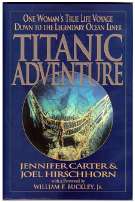 His wife, Jennifer Carter, was the first woman in the world to dive down to the Titanic in a submersible. She led the 1987 expedition to find and bring up artifacts, and also organized the Titanic expeditions in 1991 and 1992. She was one of the producers of "Titanica", the IMAX movie. Joel Hirschhorn and his wife wrote the book "Titanic Adventure". He told me: "Titanic Adventure is one of the great stores of a courageous person who had every strike against her and fought to fulfill her dream -- in this case, to see the Titanic firsthand."