LOOKALIKES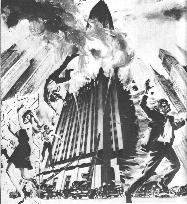 Of course, everyone wants to make a film like "The Towering Inferno". But why can't people try harder ? Apart from one ("Die Hard", which is the only one not dealing with a fire), it's a sad list of wannabees.

The Blazing Tower (UK title: Terror on the 40th floor, ('74)
Director: Jerry Jameson, Starring: John Forsythe, Joseph Campanella, Lynn Carlin.
Made for television in the exact same year THE TOWERING INFERNO was made. It's dull, boring and as thrilling as, let's say, "Jaws 4". Jerry Jameson also did "Airport '77".
Inferno in Paradise, ('74)
Director: Ed Forsyth, Starring: Richard Young, Betty Ann Carr, Jim Davis.
I only saw the first 10 minutes and they were so bad, it was unbelievable. Must see the whole movie, but with a few bottles of beer. Tell you more about this one later.
Wanna see for yourself ? MAIL ME ! I'll send a dvd+r (PAL, region-free) of this movie for $15 (ex-shipping). It's a movie you won't find anywhere.
Flight to Holocaust ('77)
Director: Bernard Kowalski, Starring: Patrick Wayne, Christopher Mitchum, Desi Arnaz Jr., Sid Caesar, Rory Calhoun, Lloyd Nolan, Paul Williams, Fawne Harriman.
A private plane crashes into the side of a skyscraper. Made for television, starring three sons of famous actors and the director of "Attack of the Giant Leeches", you know what to expect.
Fire ('77)
Director: Earl Bellamy, Starring: Ernest Borgnine, Vera Miles, Patty Duke Astin, Alex Cord, Lloyd Nolan, Ty Hardin, Donna Mills, Neville Brand, Gene Evans, Erik Estrada.
Executive producer Irwin Allen lit this fire for television. A mountain community is threatenend by a blaze, started by an escaped con.
The first shot is of a helicopter (what else). What follows is a lot of marital problems, overacting and stock footage. It's bad, it's worse than bad, it's a total disaster (well, wasn't that the intention ?). Only nice thing: its ad, as seen here on the right. It's taken from a videocover, so I don't know if it's the original. But then again, who cares.
Wanna see for yourself ? MAIL ME ! I'll send a dvd+r (PAL, region free) of this movie for $15 (ex-shipping). It's a movie you won't find on dvd anywhere.
City on Fire ('79)
Director: Alvin Rakoff, Starring: Barry Newman, Henry Fonda, Ava Gardner, Shelley Winters, Leslie Nielsen.
What would a disaster movie be without good old Shelley-Poseidon-Winters, Henry-Swarm-Fonda and Ava-Cassandra Crossing-Gardner. Without Paul, but with Barry-no relation-Newman. Boy, what a mess. At several explosive scenes there are many inexplicable shots. You often wonder if it's stock footage. Also many shots from televisions, probably news footage. And never a real picture of the "city on fire". All that and no story, no characters and no suspense at all. But why ? The set of the burning street in the last half hour looks really nice ! It's a tight, close set full of burning cars and buildings. When the camera follows the people through the street (like in the screenpic above) you get some feeling of being there (look at a tiny clip of it). According to "extra" Michael Shayne this was a specially built set. They should have made a smaller story and stayed in this nice, claustrophobic set. Then it could have worked out. Now it's just a first-class "turkey".
Wanna see for yourself ? MAIL ME ! I'll send a dvd+r (PAL, region free) of this movie for $15 (ex-shipping). It's a movie you won't find on dvd anywhere. This one is in widescreen too!
When Time ran out ('80)
Director: James Goldstone, Starring: Paul Newman, Jacqueline Bisset, William Holden, James Franciscus, Edward Albert, Red Buttons, Ernest Borgnine, Burgess Meredith, Barbara Carrera
A sad "The Towering Inferno-meets-The Poseidon Adventure" non-epic. Click on the link !
Wanna see for yourself ? MAIL ME ! I'll send a dvd+r (PAL, region free) of this movie for $15 (ex-shipping). It's a movie you won't find on dvd anywhere.
Die Hard ('88)
Director: John McTiernan, Starring: Bruce Willis, Alan Rickman, Bonnie Bedelia, Alexander Godunov.
You might be surprised seeing this one here, but I'm certainly not the first to make a comparison.
I remember seeing the poster for the first time. I was so anxious to see this movie. Was it the exploding tower, that reminded me of THE TOWERING INFERNO, or was it just because Bruce finally got his action-part ? I'm not sure, but one thing was clear: I had great expectations. Who would ever thought they would all come true. I LOVED it, I thought it was so fantastic, I went to see it a second time a few weeks later (Terminator 2 was also such an exception). It's one of my all-time favorites !
But what's the Towering-thing ? Well, the tower (of course), trapped during a party, trying to escape, the elevator-fireball, climbing through the skeleton of the building, busy rescuers on street level, and, maybe most important, the overall atmosphere of the picture (hard to explain though).
Backdraft ('91)
Director: Ron Howard, Starring: William Baldwin, Kurt Russel, Robert DeNiro, Scott Glenn, Rebecca DeMornay, Jennifer Jason Leigh, Donald Sutherland.

A star-filled cast and big fires, that's true. But please don't hate me when I say.....I didn't like it. The fires were great, some shots and scenes were even fantastic, but the lame story, the tearjerking and all those "supporting" characters that were (if you ask me) written only to fill the cast with big names, were a big dissappointment. It just wasn't the Towering 2 I had hoped for.
Fire ! Trapped on the 37th floor ('91)
Director: Robert Day, Starring: Lee Majors, Lisa Hartman, Peter Scolari, John Laughlin, Kim Miyori.
Seen this one ? Lee Majors and Lisa Hartman in a firemovie for television ! Well, is it a surprise when I tell you it's dull, boring and as thrilling as, let's say, "The Blazing Tower" ? The only exciting stuff is the real-life footage from the '88 fire in L.A.'s tallest skyscraper, where it was based upon.
Was it a coincidence it was made in the same year as "Backdraft" ? I guess not.
Heaven's fire ('99)
Director: David Warry-Smith, Starring: Eric Roberts, Jurgen Prochnow, Venus Terzo, Kaj-Erik Eriksen, Cali Timmins.
I was dying to see it, well, now I did. Holy shit, WHAT A MESS ! Bad acting, bad script, bad movie. I actually like Eric Roberts as an actor, but even he looks ridiculous in this TTI/Die Hard rip-off. The total cast is bad, bad, bad. Only exception is Kaj-Erik Eriksen (don't know him, but he looks talented), playing Eric Robert's son. Worst of all is the "Shelly Winters" of the movie - don't know her name, don't want to know it either. It's actually quite an achievement to combine "TTI" and "Die hard" and come up with such a BAD script. Only good thing I can come up with are the CGI-effects of the burning building. Realistic ? No. But it has a nice touch.
So, I saw it, so bad I enjoyed it, and strangely enough - wanna see it again.