FANS ART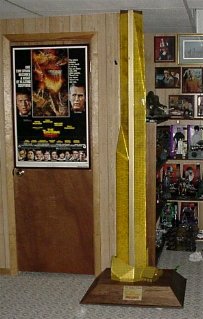 You won't believe what real TTI die-hards do at home to create their own TTI fantasy. Some have sent me pics of their work. Have you made something special about TTI, please tell me. Now have a look at what these guys made. Don't forget to look at many more pics of their work on the pages that are dedicated to them.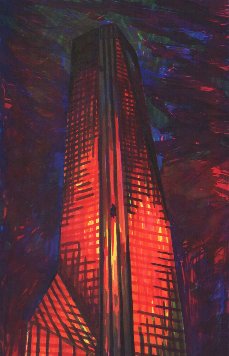 Robert Withrow's Tower (right)
Robert remade the towermodel and he did it big. He even included light and fire-effects in it.
It's really huge and looks great.
Look at more pics on Robert's page.

Michael Jehn's drawings (left)
Michael made drawings of the Tower from when he was a kid. But he still makes them now. Look at a few different drawings he made. Some are spectacular Michael !
Lool at more pics on Michael's page.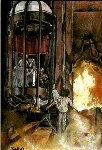 Richard Kilroy's works
Richard made several paintings, but only this one survived time.
He also made a highly detailed nine inch replica of the tower, made of pewter and plated in 24 karat gold. Seeing is believing. He made them on demand and I think you can still order it.
See and read all about it on Richard's page.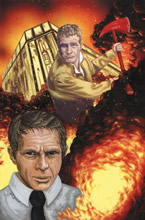 Also nice is this painting (left) by Kevin Jakubowski (click on the small pic to enlarge). Michael sent me this picture. I love the colors and the action on it. If you want to know more of this painter (he's done some fantastic comic stuff too ) go to his website.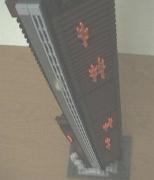 Someone else sent me pics of the glass tower made by knexx (you know, that kid's stuff where you can build things). But those pics are lost. Shame on me, but I also don't know who was the builder of it. If you read this: mail me, because we want to see it again !
Rob mailed me some time ago, saying he made the Tower 70 cm high with 600 Lego bricks. I like that kind of effort. Have a look at RH's first Lego Tower !Now look at his new, illuminated version. Soon he'll be making Duncan's office. I can't wait!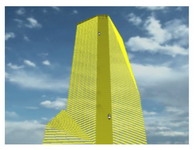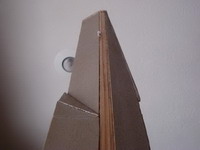 Bradley J. Morton has modeled the tower in AutoCAD. Have a look here !
Derek Harder made a 36' model of the tower out of balsa wood. Have a look here !
Paul Perdue made a tower out of plywood end paper in 1974. Have a look here !