THE GLASS TOWER

More pictures and a great story you can find on the L.B. Abbott-page. He (the man who did the Photographic Effects) wrote a book about special effects and most of the Towering Inferno-chapter can be found here.

Paul St. Pierre sent me some incredible photos I had never seen anywhere. Thanks for sharing, Paul ! They are pictures of the model of the Towerbuilding itself.









And this is our contributor, with Sheila Allen (Irwin Allen's wife, the mayor's wife in The Towering Inferno).
The second pic must be from the same series as above, but was sent in by Richard Kilroy
(have a look on the Fan's Art page, for his painting).





Here you find all of these Tower pics from the Joseph Musso Collection. From the same collection are the blueprints of the Tower!!!
Then Robert G. Withrow sent me this beautiful picture of the San Francisco skyline, including the Glass Tower, as seen in the start of the movie. Thanks Robert ! Michael Jehn made a good scan, so click on the pic for a better view of this astonishing photo.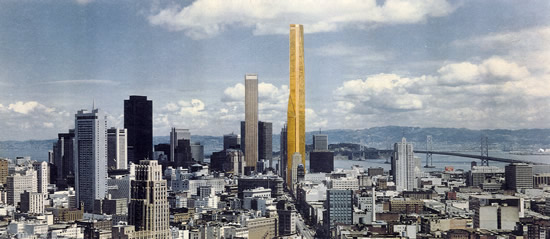 Scott Callison - a professional animator for films - looked at this "over saturated" pic and decided
to work on it to give it a more real-life feel to it, just for fun. Click here to see his result.
Here some great behind-the-scenic-elevator-scenes pics I got from Jim Avey (click on them)
I think they're incredible. I've printed them right away and put them on my wall. Thanks guys !
Another few great photo of the Tower model from Michael: